Site Prep Tips for Prefab Buildings
When preparing your location for the arrival of the shed, there are several options that will insure your structure has a level foundation upon which to sit.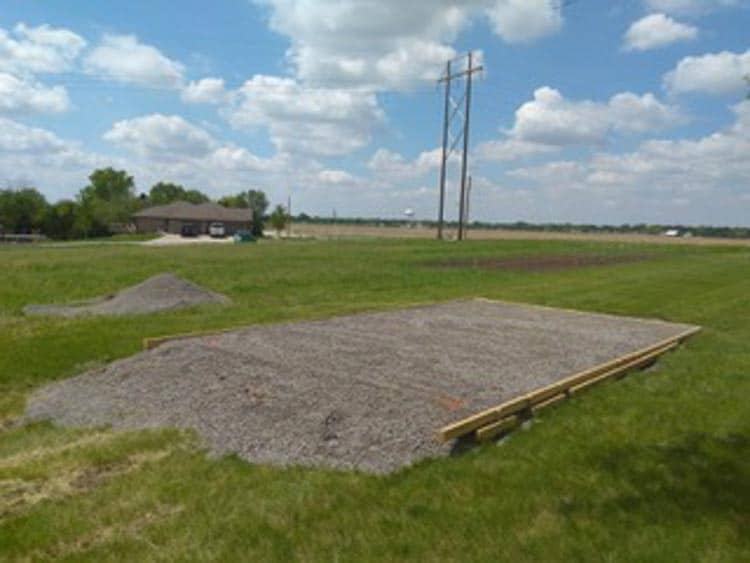 Option #1 Crushed Stone Pad
We have found the cheapest and easiest way to level and prepare a site for your shed is a base of 1" crushed stone, 3-5" thick leveled and stamped. It is a good idea to allow one foot additional space around the building to allow for good drainage.
A solid, concrete slab for a pad makes an excellent and easy site base to place your structure. It will also not be nearly as attractive to rodents wanting to dig and live under your structure where they can be a nuisance.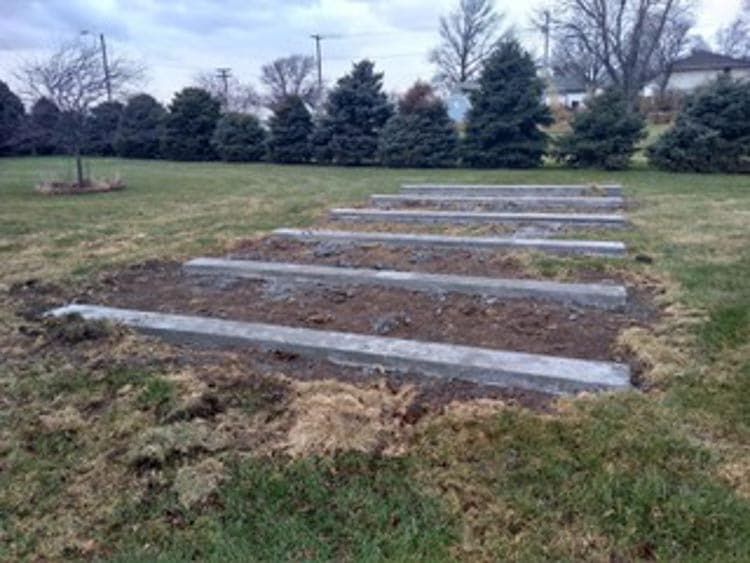 Option #3 Concrete Footers
This option is recommended for all larger structures, or if you are planning on adding plumbing to your structure. This is usually a 16"-18" wide trench dug 12-24" deep. The trench is then filled with concrete giving you a very solid footer. Footers need to be as low to the ground as possible and run perpendicular to our 4'x6' skids. Footers should be every 8'-10' apart. The area between the footers should be filled with dirt or clean stone.
If the customer wants cinder blocks, he must provide the blocks and have them ready to be placed. Cinder blocks are not recommended for larger structures! Cinder blocks will settle some too, so you may need to re-level and shim up the building periodically.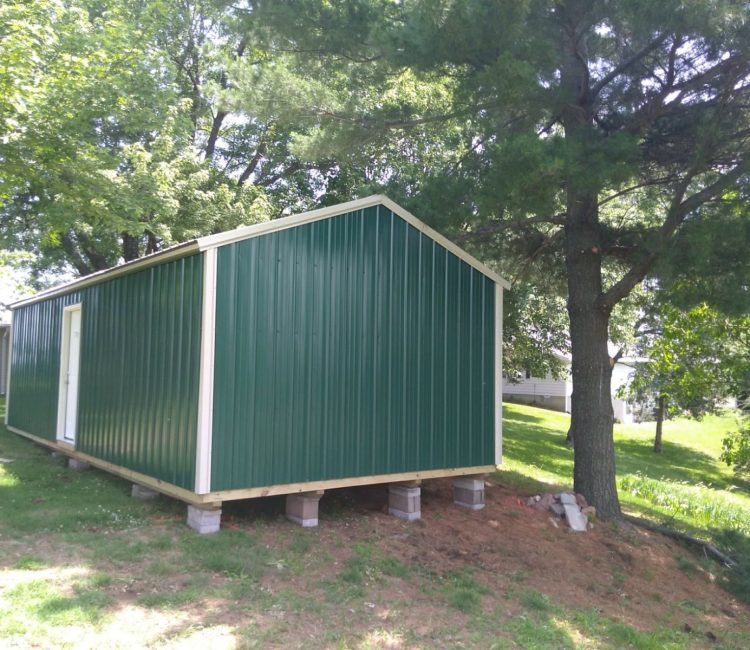 We Can Also Deliver Your Structure with No Floor!
A concrete slab is the only option for this setup. The concrete slab should be the same size as the structure you ordered. The outside perimeter must be very even, without humps or dips, because this is where your wall sets on. Mid-America Structures LLC is not responsible for workmanship of the concrete. Concrete anchor straps, placed when the concrete is still wet is the best way to anchor your structure. We can install anchors once the building arrives if needed. A floorless prebuilt model has construction, labor, and material modifications that equal the cost of the floor.
Have a Pro Prep Your Site
Contact your local dealer for a contractor reference!
Frequently Asked Questions
Can I place my shed directly on my lawn?
We highly discourage placing a new shed directly on the bare ground or grass. A properly prepared shed pad is worth its cost many times over. Your shed will need to be level to allow doors and windows to function properly, not to mention undue stress that is put on the structure when it is placed on an uneven surface. Improper slope and contact with the dirt can lead to moisture problems, rot and decay.
Do you do site prep for my shed?
We currently do not offer site prep services. Check with your local dealer for references to a site prep pro in your area.
Can I use concrete blocks for a shed foundation?
Very small sheds can often be placed on concrete block pilings without significant issues. Be aware blocks tend to settle and you may have to re-level your shed over time. We strongly recommend a crushed stone or concrete pad for larger sheds.
How high should a shed be off the ground?
Ideally you will want the floor of your shed to be 4"-6" inches off the ground. This will help prevent moisture accumulation around the bottom of the structure. A crushed stone pad or a concrete pad will provide a firm base that allows the shed to have adequate space between the floor and the ground.